As part of the Sotheby's International Realty network all of my exclusive listings are distributed on a local, national and international level regardless of price point.
In today's blog post I want to take a look at some truly exceptional homes that have been recently listed by some of my colleagues locally, nationally and internationally. These stately homes embody simple elegance. I hope you enjoy them.
13 Strawberry Cove, Gloucester – $2,499,000
13 Strawberry Cove in beautiful Gloucester is a stately and elegant villa on high bluff surveying 100 feet of oceanfront in Magnolia Shores. The grounds of this remarkable estate offer graceful fountains, terraces and formal gardens leading down to granite steps that gently roll to the blue sea. The ground floor  of this home offers a guest suite, office and wine cellar while the main floor features a classic great room with French doors, balconies, and fireplace, opening to gourmet kitchen with granite counters and pantry. The second floor has fireplaced master suite with private deck overlooking terraces, grounds and ocean. Set in highly desirable community close to Magnolia village. For more information on this exceptional example of Gloucester real estate, click here. $2,499,000
Van Dyck, Paris France – $14,894,592
This remarkable mansion comes to us courtesy of my affiliate in Paris, France and was built with nothing but pure craftsmanship and attention to detail in 1870. Designed by architect Henri Parent and decorated with sculptures by Jules Dalou, this apartment offers approximately 4,300 +/- square feet over 8 rooms with more than 20 windows and terrace. This beautiful home offers magnificent views of the Parc Monceau and an expertly sculptued courtyard. For more information on this beautiful Parisian home, click here. $14,894,592
Villa at the Elbe, Hamburg Germany – Price Upon Request
This exceptional villa comes to us courtesy of my affiliate in historic Hamburg, Germany. Built in 1903 by the architects Schaar and Hinzpeter this villa was bought in 1932 by the city and served as the home of the land cadastre of Altona. Situated just off the Elbchaussee on a park the property was acquired in 1996 by a private developer and underwent an intensive and detailed restoration in coordination with the Hamburg office of monument conservation, for which the developer was honored with an award for historic conservation in 2005. The villa offers ample living space and it comes with highly elegant stucco on the mezzanine floor and in the belletage. In addition to its other rooms, including a study, library, and conservator. For more information on this exceptional estate, click here. Price upon request.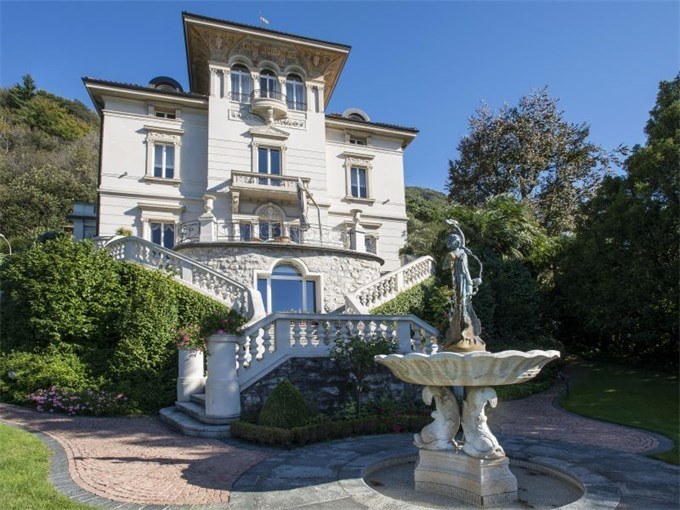 Villa Wellingtonia, Ticino Switzerland – Price Upon Request
This historic estate comes to us courtesy of my affiliate in Ticino, Switzerland. Villa Wellingtonia, a real Art Nouveau jewel, is situated on the shores of Lake Lugano, in the residential area of Figino. It is set in a well-kept garden, faces east and enjoys wonderful panoramic 180 degree views of the lake and the surrounding mountain side. This beautiful property was built in 1912 and is located among other period villas. It was completely renovated between 2000 and 2003 and its interiors were re-designed by Axel Vervoordt. The villa was refinished with the finest materials and luxury finishes, high ceilings, columns as well as stuccoes and frescoes. From inside the basement it is possible to access the "garden" wing of the building, featuring a kitchen, a sauna, a fitness room, a toilet and a shower room; outside there is a porch with a fire place, a BBQ area, a pergola, as well as the heated "infinity" swimming pool. Finally, the villa has its own private beach (133sq.m) with rare direct lake access and a boathouse, a garage with 5 parking spaces, as well as a number of outside parking spaces. For more information on this art nouveau masterpiece, click here. Price upon request. 

Spectacular Bel Air Estate, Los Angeles California – $16,950,000
This spectacular Bel Air estate comes to us courtesy of my affiliate in Los Angeles. This stately compound located in a 24 hour guard-gated community can provide great privacy for you and your guests. This home offers a 900-square foot great hall with a 35 foot high, glass dome ceiling leads to a 1,500-square foot living room. Fashioned with custom stone marble and walnut wood floors, this grand estate includes 8 bedrooms, 8 baths, 3 powder rooms, elevator, a formal dining room that seats 20, a butler's pantry, and state-of-the-art chef's kitchen. For more information on this exceptional Bel Air estate click here. $16,950,000